Time Doesnt Stop When Youre Renovating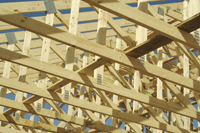 When you buy a house for the purposes of renovating it, there may well be a simple equation in your head. Money spent on buying house + money spent renovating = total spend. Resale price total spend = profit. Simple! Isnt it? Well, maybe not. You see, on top of this you do need to consider what else is going on while you are renovating. Renovating a house is not something you can do in dead time, so you also have to look at how you live in the mean time.
After all, if you need to be present for the work because you are helping to do it or because you need to monitor the project then this cuts into time that you would ordinarily spend working and making money. If you have sold your house to buy the new one, then you will also need to take care of resettlement costs, whether you are renting or have found another solution. It is hard to live in a house which is in the middle of renovations, as anyone who has done it will tell you.
You may need to work into your budget an amount which will cover the costs of your time spent on site and your temporary accommodation. If you have borrowed in order to buy the house, you will need to at least service the mortgage on it, too. Therefore it is essential that you have a plan, and that that plan is realistic. Many people get carried away thinking of the profit that they will make, but it is important to think about the difference between gross and net profit
Time Doesnt Stop When Youre Renovating
Time Doesnt Stop When Youre Renovating
Time Doesnt Stop When Youre Renovating
Time Doesnt Stop When Youre Renovating
Time Doesnt Stop When Youre Renovating
Time Doesnt Stop When Youre Renovating
Time Doesnt Stop When Youre Renovating